Is it Time for a New Mattress? 
Sleeping well should not be a luxury. We all need sleep for the many health benefits it brings, not to mention the mental vitality from a good night's rest. Think of all the hours you spend in bed. Having a good, comfortable mattress is essential. There are many reasons why a mattress might need to be replaced. Here are a few ways to tell if your mattress is worn out and it might be time to invest in a new mattress: 
You wake up achy
An old mattress might not give you the support you need, which can wreak havoc on your body. Areas like your neck, hips, lower back, and shoulders will start to ache from the lack of support while you sleep. Do you notice coils or springs sticking out of the mattress, or do you see the physical outline of your body? A bed with excellent support will bounce back to its natural state and will not have any rips from coils poking through the mattress.
Your mattress is sagging.
One of the most obvious signs that it is time for a new mattress is when it sags. Sagging occurs when the coils in the bed begin to weaken or if it is a memory foam mattress, the sagging means it is losing its shape. Once again, if you notice a body impression in the mattress when you get out of bed, this could be a signal that the mattress is sagging.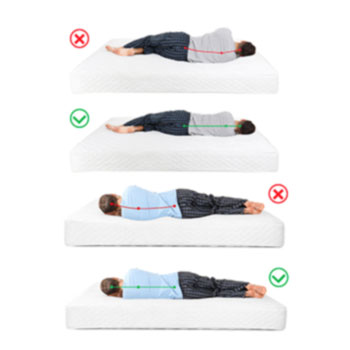 Your mattress is over ten years old.
According to Consumer Reports, a mattress taken well care of should last at least a decade. However, if you are over 40, your body tolerates less pressure which means you might need a new mattress sooner than ten years. You can usually tell how old your mattress is by simply checking the tag. The date it was approved to be sold should be on the label.
New mattresses near me
These are just a few reasons it could be time to replace your mattress. If you are on a budget, do not worry, we can help! At Sleep Station Mattress Outlet, we have several major brand mattress options at 75% regular retail price. We also offer easy financing. We are America's #1 retailer of liquidation and overstock mattresses. We have 3 Convenient locations in the midsouth: 1713 Germantown Pkwy, 5226 Summer Avenue Suite #25, and 24 McLaughlin Drive in Munford. Invest in your sleep at Sleep Station Mattress Outlet.
affordable mattress, best new mattress, closeout mattress, mattress accessories, mattress buying tips, mattress myths, mattress shopping tips, mattress sizes, mattress warning signs, new mattress, Sagging mattress, sleep station