Different Types of Stearns and Foster Mattress Collection 
A good night's rest is vital to your health. If you do not believe me, try going a few nights without sleep and let me know how you feel. One of the best ways to achieve a good night's rest is to sleep on a mattress that fits you perfectly. Whether you prefer a mattress firm, or a mattress pillow top, Stearns and Foster Mattress Collection has either type. Different types of Stearns and Foster master collection is an award-winning mattress collection with comfort as the primary reason for the award. 
The Stearns and Foster Mattresses were designed by craftsmen who perfected and honed their craft over time. Each Stearns and Foster mattress is exceptionally crafted to help you curate the bedroom you have always dreamed of having. These legendary mattresses are hand-layered for luxury. According to the website stearnsandfoster.com, there are three main types of Stearns and Fosters mattresses: the Lux Estate, the Lux Estate Hybrid, and the Reserve.
Lux Estate Stearns and Foster Mattress
Contains Indulge HD Memory Foam
IntelliCoil HD
Precision Edge + Airvent System
1,774 Coil Count
Lux Estate Hybrid
Indulge HD Memory Foam
IntelliCoil HD
Precision Edge + Airvent System
2,284 Coil Count
Reserve
Upholstery-Grade Velvet and Embroidery
Hand Tufted for Durability
Indulge HD Memory Foam
IntelliCoil HD 
PrecisionEdge + Airvent System 
3,196 Coil Count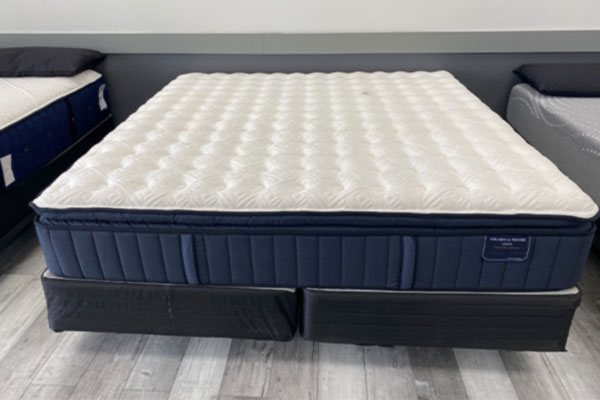 They also offer additional mattresses that fall under the umbrella of the three primary collections. These mattresses include the Estate Hurston or The Classic. Estate Rockwell has the best value. The Lux Estate Cassatt, their award-winning bed, takes comfort to another level. The Lux Estate Hybrid Pollock is considered the best mattress for premium pressure relief. Lastly, the Reserve Hepburn is the most indulgent of them all.
If you are looking for the perfect mattress, then look no further than Sleep Station Outlet. We have 3 locations in the mid-south, Cordova, in the Perimeter Mall, and Munford. We carry a variety of mattress collections, including the extremely popular Stearns and Foster. We have mattresses of all textures and sizes. And the best thing about Sleep Station? Our mattresses are 75% off the original price. Our staff knows the details on every individual mattress, and they are able to guide you to the mattress you have always wanted. If you are in the market for a new mattress, stop by and visit one of our 3 locations today.
affordable mattress, mattress accessories, mattress buying tips, mattress myths, mattress shopping tips, mattress sizes, sleep station, Stearns and Fosters, types of Stearns and Foster Mattress Collection